Aluminium tilt and turn windows
1. If the aluminum alloy profile is damaged during transportation by our company, to repair for minor damages, to replace if damages are severe. If the hardware is damaged, replace it directly, and replace the broken glass. The related expenses will be covered by our company.
2. If the product cannot be opened or hard to open, our company will provide video operation guidance or arrange to door service.
3. If our company does not send complete hardware accessories or other materials, our company will send the materials as soon as possible, so as not to affect the construction progress on site. If there is any wrong size, our company will send the product with the correct size immediately.
4. Other problems should be solved, depending on the actual situation on-site;
5. If the quality problems are caused by customers, our company will cooperate with customers to solve the problems at the lowest cost.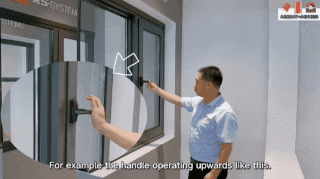 The realization of the open window, hanging, flat open. The opening mode is more suitable for specific groups of people.The invisible control of the inner flat open lower hanging window, while ensuring the appearance of the whole window, effectively controls and shields the flat open function of the inner flat open lower hanging window, making it safer to use.The unique undersuspension control structure effectively improves the safety and reliability of the undersuspension state and has good anti-theft performance.At the same time, the air permeability space can be increased by flat opening way.
Copyright © 2022 Shanghai Renshi Doors & Windows Co.,Ltd - www.rswindows.com.au All Rights Reserved.
Choose a different language
English
Bahasa Melayu
العربية
繁體中文
简体中文
русский
Português
한국어
日本語
italiano
français
Español
Deutsch
Current language:English