Usually, all independent windows or single-leaf hinged doors that are smaller than the height of the container door are shipped in one package. Combination windows can be shipped in one package or divided into multiple packages, based on their sizes. All sliding doors, Bifold doors, and double-opening side-hinged doors are individually packaged and shipped after the door frames are disassembled. (The door frames need to be assembled at the construction site or local warehouse. When assembling, pay attention to the connection between the rail and mullion, and glue it for waterproofing). The door leaf is individually packaged and placed on a pallet for delivery.
Under normal circumstances, the hardware of sliding windows, manual top-hung windows, and glass blinds are installed in the factory before shipping. The handles and locks of sliding doors, hinged doors, bifold doors, and casement windows are installed on the construction site, and the other hardware is installed in the factory before shipping.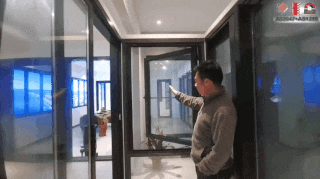 Casement window has convenient opening mode, you can adjust the window opening size according to the size of the hinge, in order to achieve better ventilation effect. The open type not only does not take up indoor space, but also can maintain good ventilation. The window type has also been tested for sound insulation and can greatly reduce outdoor noise when the Windows are closed.
RS105 Broken Bridge Series Casement Window has gained core competitive advantages in this field with its quality products. Through the decorative lattice, this window looks different and increases the characteristics.
Copyright © 2022 Shanghai Renshi Doors & Windows Co.,Ltd - www.rswindows.com.au All Rights Reserved.
Choose a different language
English
Bahasa Melayu
العربية
繁體中文
简体中文
русский
Português
한국어
日本語
italiano
français
Español
Deutsch
Current language:English